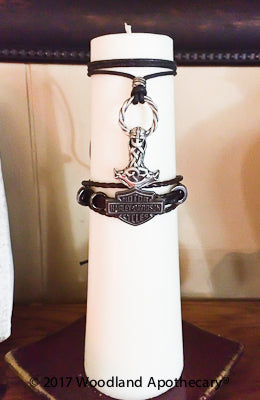 Candle - Memorial Torch
Memorial Torch Candle - The loss of a loved one is always heartbreaking.  Our Memorial Torch Candle is a special way to honor the lives of loved ones who have passed. Light this torch Memorial candle in remembrance of them.

Typically adorned with a beautiful ribbon and Angel Wing Charm or we can work with you for a custom order (shown).

Dimensions:  2" x 9"
Approximately 65 hours of burn time. 
Made from our proprietary soy wax blend, pure essential oils or phthalate free fragrance, cotton wick, ribbon or cord and charm. 
Photo:  Custom Order
Viking Thor's Hammer and Harley Davidson Charms, scented with Orange and Anise Essential Oils

---
More from this collection