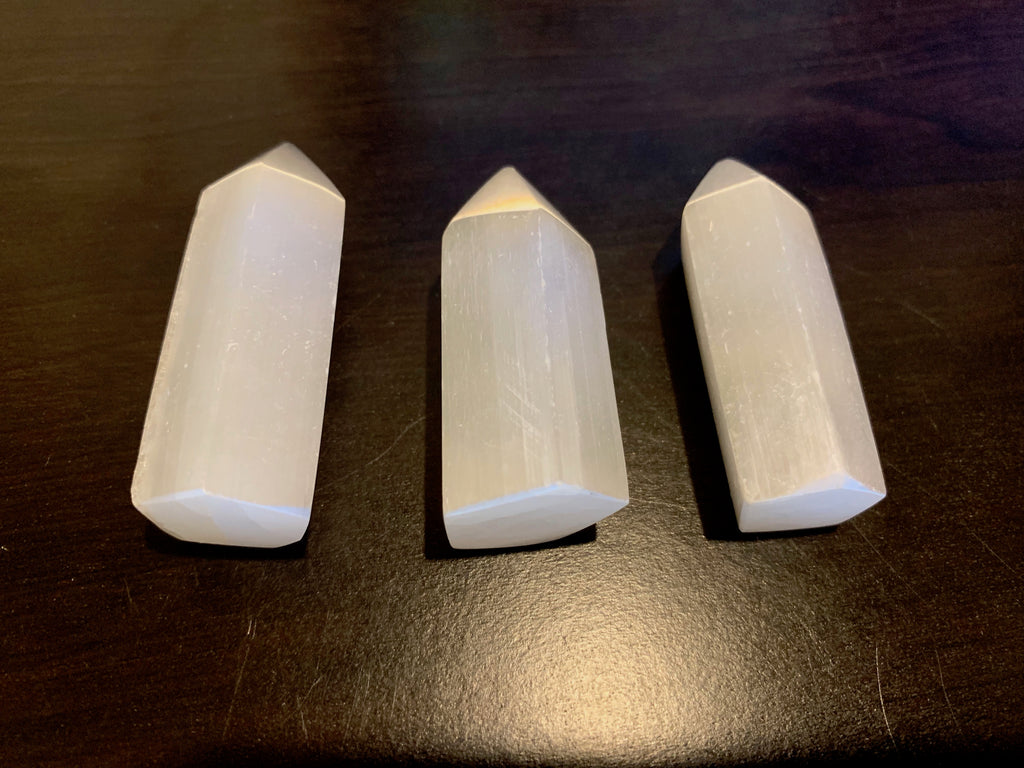 Tower - Selenite
Selenite Towers -
Selenite comes from the Greek word Selene, meaning moon.  
Selenite is a variety of gypsum.  It is repudiated to be powerful enough to clear negative energies, and reprogram your crystals.  You never need to recharge it! 
It can help in expanding your awareness and contacting your spiritual guides and angels. 

Selenite is associated with the Crown and the Third Eye Chakras and is excellent for meditation or spiritual work. Selenite is calming and brings mental clarity.  This clarity enhances mental flexibility and enables strong decision making abilities. 

Use Selenite in a grid around your home or in the corners of a room to create a safe and peaceful space.

Selenite has a hardness of 2 and should never be cleaned with water, oil or any other liquid. Keep dry.

Color(s): Colorless, sometimes with pale tints due to inclusions
Transparency: Transparent, Translucent, sometimes appears opaque when it has inclusions such as in desert rose formations
Lustre: Vitreous, Shimmery, Pearl-Like Lustre

Keywords: Mental Clarity, Psychic, Angels
These Selenite Icebergs were charged during the solar eclipse.
Net Wt Per Stone
Net Wt:  0.7 to 1.0 oz

Approximate Dimensions: 2" x 0.5"

Price is for a single stone.
---
More from this collection