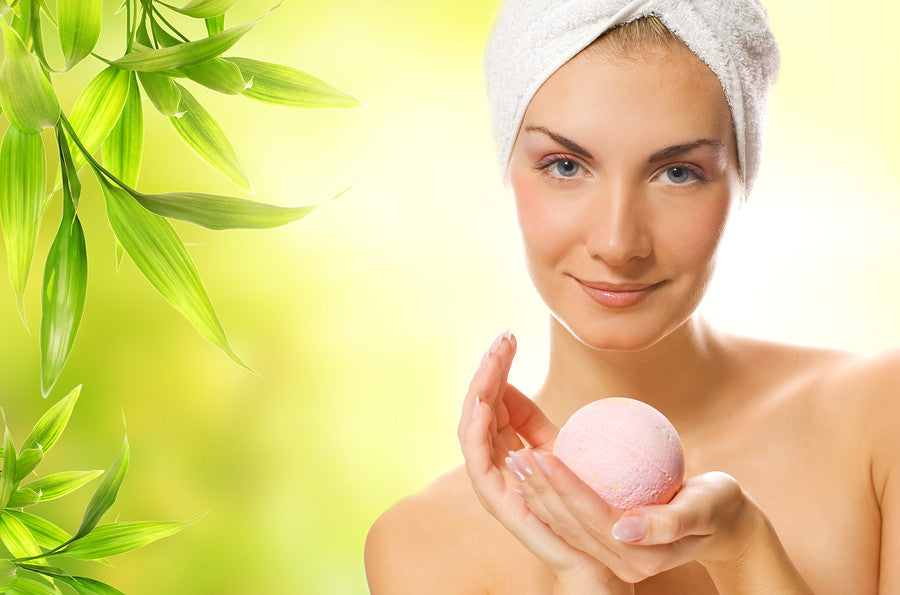 Bath Bombs - Available in 2019
Our artisan bath bombs make a wonderful addition to your bath. Just drop the bath bomb into the water and let the fun begin!  Be sure to circulate the water occasionally, so the aroma will continue to release.  Colors vary by scent.

End of Year:  Our Bath Bombs will be back in 2019
Phthalate Free: No
Detergent Free: Yes
Net Wt of Product:
Net Wt. of Each Bath Bomb 4.0 oz / 113.4 g
Ingredients:
Sodium Bicarbonate, Citric Acid, Epsom Salt, Persea Gratissima (Avocado) Oil, Fragrance or Essential Oil Fragrance, Kaolin Clay, Sodium Cocoyl Isethionate, Sodium Lauryl Sulfoacetate (SLSa), Potassium Bitartrate (Cream of Tartar), Buttermilk Powder, Polysorbate 80, Mica, CL 77891, Iron Oxide or Colorant (see below).

Colorants:  All are approved FD&C Lake colors that  contain: Vegetable Glycerin, Isopropyl Alcohol.  Depending on the color, any of the following may apply,  Red 33, Red 40, Yellow 5, Green 5, Blue 1, Violet 2 or Yellow 6

Plum Rose:  Sodium Bicarbonate, Citric Acid, Epsom Salt, Persea Gratissima (Avocado) Oil, Amygdalus Dulcis (Sweet Almond) Oil, Ricinus Communis (Castor) Seed Oil, Fragrance or Essential Oil Fragrance, Kaolin Clay, Sodium Cocoyl Isethionate, Sodium Lauryl Sulfoacetate (SLSa), Potassium Bitartrate (Cream of Tartar), Buttermilk Powder, Polysorbate 80, Red 40 Lake, Yellow 5 Lake
Warnings:
For external use only. Avoid contact with eyes. Check temperature of water before entering bath. Bathtub may be slippery. Use caution in and around the bath. If irritation occurs, discontinue use immediately.  
FRAGRANCE DESCRIPTIONS: 

Aloe & Green Clover - Fresh dew drops and sunny citrus tones add spark to this green blend.  Sweet clover blends with botanical notes as they lead to a sweet base of soft musk.  A refreshing fresh, clean scent!
Apple Jack & Peel - Crisp & tangy apple cider with touches of warm spices, orange zest, lemon peel.  Perfect for fall and winter!

Bedtime Bath - soothing bedtime blend of mandarin, lavender and chamomile, neroli and lily of the valley.  Bottom notes of hay and musk. 

Berry Spice - 
Black Raspberry & Vanilla – Juicy black raspberries swirled in vanilla creme.
Cherry Mist – A knock-your-socks off true black cherry with a delicate twist.  Rich with aroma, this fragrance just makes your mouth water for dark, ripe Bing Cherries.
Coconut Lime Verbena - A blend of lemon verbena, lime and coconut.

Cucumber Rosemary Mint – A refreshing blend of Cucumber with Rosemary, Peppermint and Spearmint essential oils.  
Dragon's Blood- Exotic, haunting and mysterious!  A complex, warm fragrance with touches of amber, incense and a tiny hint of patchouli. If you are a fan of more amber, myrrh and sandalwood, you will go wild for Dragon's Blood.  
Minty Fresh - 
Eucalyptus Spearmint - Breathe deep and relax with this BBW dupe. This invigorating unisex aroma combines eucalyptus and spearmint with a touch of lavender, citrus and calendula for a very energizing scent.
First Drops of Rain - A fresh floral fragrance as drops of rain land on a field of jasmine with a hint of grass.  Subtle notes of citrus and ozone.  A clean, fresh rain scent. 
Fresh Juicy Pear – A mouth-watering fragrance has an aroma of a fresh succulent pear. Sweet, juicy and fresh all at the same time.
Frozen - A crisp, clean apple with winter spices.
Grapefruit Bellini – This sparkling, fruity fragrance is a bright, happy scent. Top notes of Pineapple, Jasmine and Grapefruit are livened up with Peach Nectar and Mango then finished off with Rhubarb and Sugared Musk.
Kai – An intoxicating and elegant fragrance that centers on fresh notes of white exotic flowers and enchanting gardenia.   
Lavender – A beautiful Lavender aroma.  Close your eyes and you will think you are in the middle of field in Lavender Provence.
Lemongrass – A wonderful aroma of fresh cut lemongrass with a slight hint of green herbal notes.  Clean, fresh and revitalizing.
Lemon Lime – A very refreshing lemon, lime aroma.  Citrusy lemon and lime. Slightly Effervescent for a fresh scent.
Lemon Sugar– An invigorating, bright lemon aroma that rests on a bed of warm sugar with a subtle note of vanilla in the background. 
Lick Me, Bite Me – Our custom blend for when you are feeling playful. Scrumptious blend of creamy vanilla combined with the aroma of sparkling citrus, sweet pineapple, berries and maraschino cherry. A tantalizing scent.
Love Spell – A VS dupe combining light fruit, citrus, musk and florals for a truly magical and romantic scent. 
Mango Papaya - A tropical delight!  The perfect blend of ripened mango and juicy papaya.  Sweet, fruity and tropical that is clean and enticing.
Nag Champa – Nag Champa is an exotic bouquet of sandalwood, champa flowers, violet and clove delicately blended with sensual amber, ylang ylang, patchouli and musk.  Many people believe that Nag Champa stimulates spirituality and meditation.  A calming fragrance.
Oatmeal, Milk & Honey - A wonderful fresh aroma of oatmeal, with nuances of creamy milk and farm fresh honey.
Peppermint –  A wonderful, cooling mint essential oil fragrance.
Pikake Flowers – Pikake flowers are the traditional jasmine blossoms used for making lei in Hawaii.  This exotic scent evokes the traditional custom of the Hawaiian people lined up to welcome malihini (visitors) to the islands with their handmade lei.

Plum Rose – A clean, light floral with a whisper of summer breezes, fresh plumeria and a perfect rose scent.
Rise and Shine – A refreshing, wake me up fragrance with lots of fresh blood orange notes, apple, grapefruit, peach, mango, strawberry, tangerine and a touch of loganberries.
Strawberry Kiwi – A delightful blend of fresh, sweet strawberries and ripened kiwi fruit.  
Sweet Orange Tangerine - The delicious scent of juicy, sweet oranges and tangerines!  Great tangerine orange aroma blended with just a splash of vanilla.
Volcano Capri - Tropical fruits, sugared oranges, lemons and limes, with lightly exotic mountain greens.
Watermelon - Enjoy the fruity fresh scent of summertime watermelon all year long.
Wild Berries - The unmistakable aroma of fresh, juicy strawberries, wild raspberries and blackberries with a hint of blueberries.
---
More from this collection