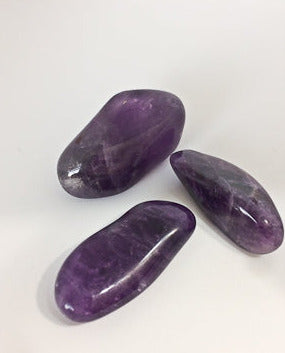 Tumbled Stones - Amethyst (Free Form)
Crystal - Amethyst - This free form amethyst stone is a wonderful addition to your crystal collection and ritual practices.
Amethyst is used to increase the strength of one's inner and intuitive awareness.  Amethyst is stone that is connected with enhanced nobility, spiritual consciousness, meditation, equalizer, clairvoyant powers, serenity, healing and positive recovery.  Amethyst stone meaning courage all matter in our life. It  is a tutor of all matters spiritual, mystical and physical.

Net Wt Per 1 Stone
Net Wt:  Approximately 1 1/2" in length
Price is for 1 stone.

---
More from this collection