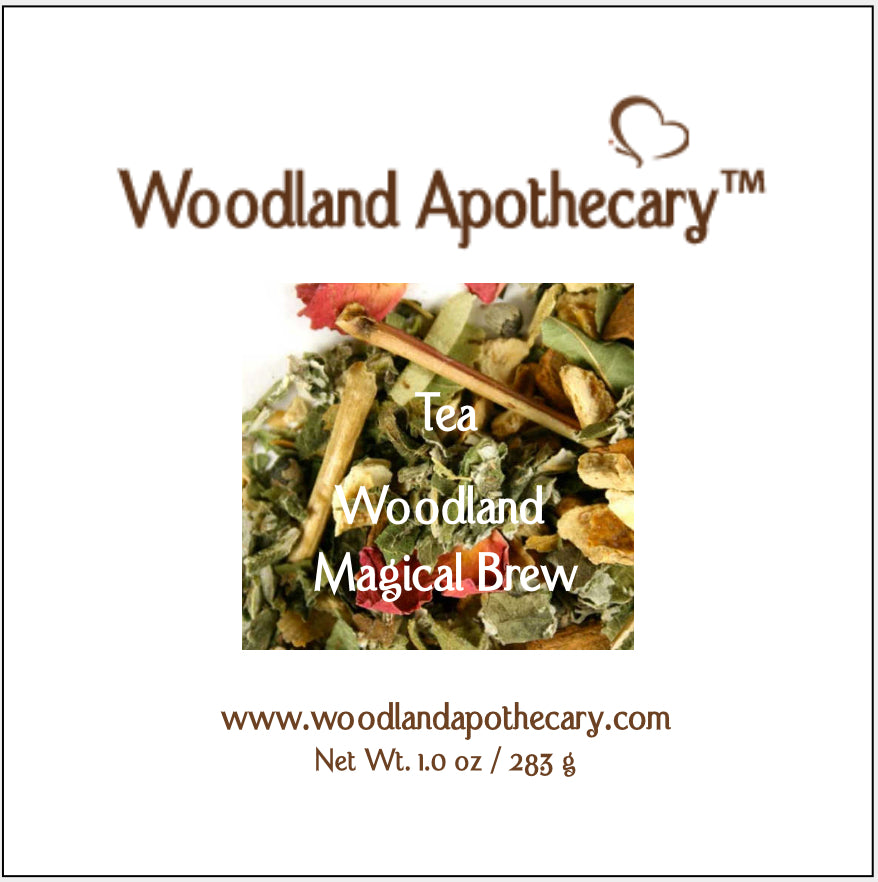 Herbal Tea - Woodland Magical Brew
Woodland Magical Brew - An all-natural blend of herbs.  We combine flowers, fruits, and leaves to achieve a balanced tonic for health and happiness!  This profusion of ingredients is rich in iron.  With fruity and floral notes of luscious lemon and rose, with some lingering sweet notes of stevia, nature's sweetest plants.  Enjoy this magical brew!

Net Weight Per Package
Net Wt. 1.0 oz / 28.3 g
Ingredients: 
Raspberry Leaf, Vitex, Nettles, Linden Flower & Cinnamon, Lemon, Rose, Stevia

While the British made tea time famous, documents have been discovered that date herbal teas back to ancient Egypt and China.  They have been used for hundreds of years for their health benefits, great taste and even magical properties. We make no medical claims for our teas. Herbal teas do not contain caffeine and can be served hot or cold.  Our herbal teas are made from organic herbs, flowers, spices and/or dried fruits.  Each ingredient in our herbal tea blends have been carefully selected for its known properties and flavor profile.  Stevia leaves may be added as a sweetener in some blends or honey may be added after the tea has steeped. 

Brewing the perfect cup of loose leaf tea is a personal preference.  Here is a helpful guide to get you started.

Heat water to desired temperature.

Scoop the dry tea leaf into an infuser or tea strainer.

Pour your heated water over dry tea leaves and steep for desired time.  The longer the steeping time the stronger the brew.

Remove tea infuser or strainer.

Relax and enjoy!
Warning:
We use high quality organic ingredients in all of our herbal teas.  If irritation or allergic reaction occurs, discontinue use immediately and seek medical attention.  Do not use if you are pregnant. 
---
More from this collection