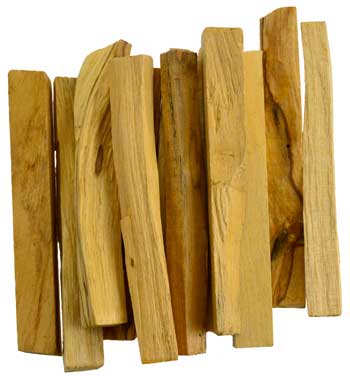 Miscellaneous - Palo Santo Smudge Stick
Palo Santo Smudge Stick - Palo Santo is a rosy, sweet-smelling wood, also known as "Sacred Wood" or "Holy Wood".  It has been used by the Incas and indigenous peoples of the Andes for centuries.  It's purpose is a spiritual remedy to purify and cleanse, clearing sacred spaces of any negativity, evil spirit and misfortunes. 
It has a fine citrus aroma with underlying notes of frankincense, its close relative. It is often used by Shamans in sacred plant spirit ceremonies. Our Palo Santo is sustainably wild harvested from a reserve in Ecuador from naturally fallen trees and branches that lie dead for 4-10 yrs. before they are harvested
Simply light the wood stick.  May be placed in an abalone shell or in our scrying/smudge blowl.  The stick will smolder for several minutes once lit and blown out.  You can also just place the wood in the bowl or shell unlit for its natural essence.
Price is for 1 stick

Materials:  Palo Santo Wood
Dimensions:  3 1/2" to 4" Length; Approximately 1/4" to 3/4" Thick
---
More from this collection