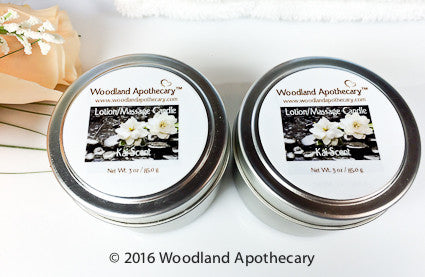 Lotion/Massage Candle - Kai Scent
Spa quality Lotion/Massage Candles with a delightful fragrance. Fresh notes of enchanting gardenia and white flowers for wonderful intoxicating aroma. Sure to make a lasting impression.
No wick.  Go Flameless! Perfect for use with any of our candle warmer plates.  Simply heat the candle on a candle warmer. The lotion will form a melt pool. Unplug the candle warmer. Remove a small amount of the luxurious warm liquid with your fingers. Apply generously, repeat as desired. Best used after a shower or bath to allow the oil to sink in. A relaxing spa experience!
Phthalate Free: Yes
Detergent Free: Yes
Paraben Free: Yes
Net Weight Per Candle
Net Wt. 3 oz / 85.0 g
Ingredients:
100% Non-GMO and Pesticide Free Soy Wax, Butyrospermum Parkii (Shea) Butter, Theobroma Cocao (Cocoa) Seed Butter, Persea Gratissima (Avocado) Oil, Simmondsia Chinensis (Jojoba) Seed Oil, Olea Europaea (Olive) Oil, Cocos Nucifera (Coconut) Oil, (Aloe Vera) Butter, Mixed Tocopherols
Warnings:
For external use only. Do NOT pour from container unto skin, the oil.  Skin may be slippery until oil sinks in. Ensure skins and hands are dry after use.  If irritation occurs, discontinue use immediately.  
Candle and Candle Warmers Warnings:
Failure to follow directions could result in a fire hazard, personal injury and/or property damage.
Never leave a candle warming unattended. Keep candle within site. Keep out of reach of children, pets or flammable objects. Melt Lotion/Massage Candle only until melt pool forms. Placing fingers in the melt pool. Do NOT pour melt pool onto skin…The total melt pool may be hotter than taking some on your fingers. Discontinue use if the candle contains less than 1/4″ of wax.
Use only UL listed candle warmer plates designed for candles. Read and follow all instructions provided with your candle warmer before use. Do NOT leave candle warmer unattended while in use. Keep out of reach of children, pets or flammable objects. Use only in well ventilated areas away from flammable materials. Unplug candle warmer when melt pool forms.
---
More from this collection