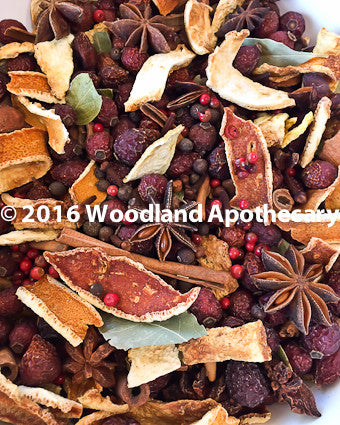 Potpourri - Berry Spice (Simmering)
Simmering Berry Spice Potpourri.  A fruity aroma mixed with sweet orange, cinnamon, cloves and other holiday spices. Place in bowl or container and let the aroma move through the air.  This potpourri can also be used to simmer in a small crock pot.  
Makes a nice gift paired up with our Wax Melts and Candle Warmers. 
Net Weight Per Package
Net Wt. 5.5 oz / 155.9 g
Ingredients: 
Orange Ribbons, Rose Hips, Fancy Cloves, Bay Leaves, Cinnamon Sticks, Star Anise, Allspice, Pink Peppercorns, Rosemary, Essential Oil Fragrance
Warnings:

Small pieces may be a choking hazards for children and pets. Please keep out of reach of small children.  If irritation occurs, discontinue use immediately.  
---
More from this collection