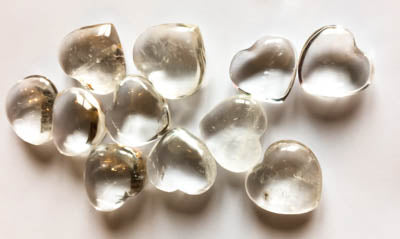 Puffy Hearts - Clear Quartz
Clear Quartz Puffy Hearts - Good for amplifying the power of love.  They are wonderful for mediation and energy work.  
Known as the "Master Healer" of the mineral kingdom, it has a very high vibration and is the most versatile of the healing stones.  Also known as the "Stone of Power" and amplifies any energy or intention.  Clear Quartz is believed to protect against negativity, attune to your higher self, and relieve pain.  
Chakra:  All Chakras
Dimensions:  Small, Medium or Large
Price is for 1 Puffy Heart

---
More from this collection