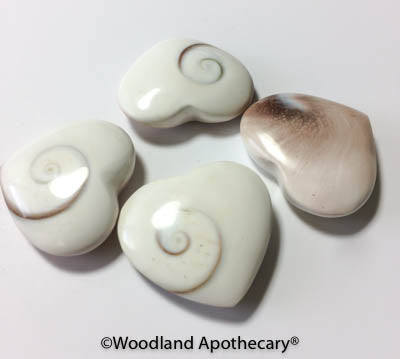 Puffy Hearts - Shiva Eye
Shiva Puffy Hearts - Shiva Eye or Shell is sometimes called Pacific Cat's Eye, a beautiful natural gem completely formed by Mother Nature.
It is repudiated to represent wisdom, the eye symbolizes our ability to look beyond the obvious and into the deeper aspects of life.  It is said to bring about enlightenment.  It symbolizes the creation, preservation and destruction of everything (the flow of life, constant change in the universe, spiritual knowledge and creative visualization).
An uplifting stone, one that awakens a sense of adventure and change.  It is considered a tremendous tool for giving back joy and spontaneity to one's spirit by helping to eliminate fear.  It is said to also enhance psychic abilities and to ward off bad dreams.   
Chakra:  Third Eye
Dimensions:  Small 
Price is for 1 Puffy Heart

---
More from this collection