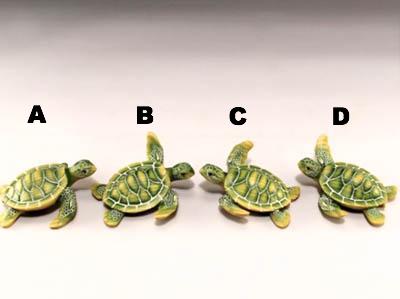 Spirit Animal - Green Sea Turtle Wood Like Carved Statute
Turtle -  As a spirit animal, the Turtle teaches us about walking our path in peace and sticking to it with determination and serenity.  Slow moving on earth, yet incredibly fast and agile in the water.  Look around or within for more grounded, long-lasting solutions.  The Turtle is a strong symbol for Mother Earth, the ability to stay grounded, even in moments of disturbances and chaos, slowing down, pacing yourself, determination and persistence, emotional strength and understanding and ancient wisdom.  The Turtle is also linked to the spirit of water and the fluid nature of emotions.
This wood-like carved turtle is perfect for any nature and animal lover.  The design features a realistic hand carved wood look to the piece.  The beautifully colored hand painting and polishing give each piece that extra sense of realism.  
Material:  Polyresin
Net Wt 
Dimensions
3 3/4" L x 2 3/4 W x 1.25" H 
PRICE IS FOR 1 TURTLE - Choose from A, B, C or D
---
More from this collection