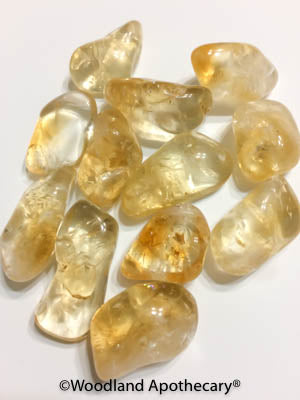 Tumbled Stones - Citrine
Citrine (Brazil) - Powered by the Sun, Citrine is repudiated to warm, cleanse, and energize. Highly protective, Citrine makes a great tool for transmuting negative energy. Citrine heightens self-discipline and willpower, attracting professional success and wealth. It has been called "the merchant's stone", and can be placed in a cash box or drawer, or in the far-left corner, or "wealth corner", of the home, to attract abundance. Carry Citrine in the purse or pocket as a general good-luck stone. Used in manifestation rituals, Citrine works well in an energy-grid, with yellow candles and Clear Quartz and/or other Citrine Crystals surrounding it.
Citrine can also be used to cleanse all of the Chakras.  This sunny Citrine has a joyful vibration that transmits outward to those nearby. Working with Citrine can activate one's imagination, bringing more creative visions to a clearer mind. Citrine is often credited with opening the mind to new ideas, discerning which are most likely to succeed, allowing those to develop, and following through with them to their happy conclusion.
Chakra:  Sacral, also Crown and Solar Plexus
Dimensions:  Approximately 1" in length    
Price is for 1 stone.

---
More from this collection