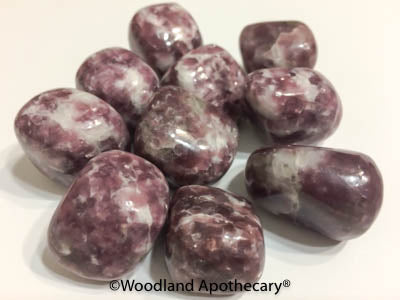 Tumbled Stones - Lepidolite
Lepidolite - The crystal structure in Lepidolite have some translucency and have a special vibration. Lepidolite is made up of Mica and Lithium. Lepidolite is literally crystallized Lithium, and in its pure form as it comes out of the earth.

Known as "the stone of transition", Lepidolite is repudiated to help shift and restructure old energy patterns and brings light and hope to a situation. Lepidolite works with all of the chakras, especially the Heart, Third-Eye, and Crown Chakras. Lepidolite crystals can help you open up to receiving higher vibrations from the higher realms into the subconscious, transferring these vibrations into the conscious through the Third-Eye Chakra, and integrating them into the center of truth via the Heart Chakra. Use Lepidolite for metaphysical work with the Heart and Crown Chakras, and to reduce stress associated with change.  
Chakra:  Heart, also Crown, Third Eye, Throat

Dimensions:  Approximately 1" in length
Price is for 1 stone.
---
More from this collection