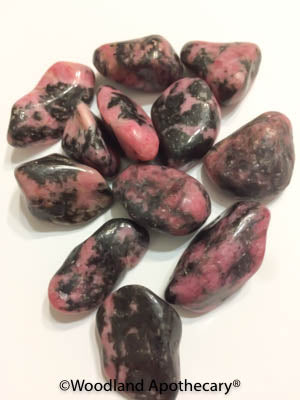 Tumbled Stones - Rhodonite
Rhodonite (Madagascar) -  stone of patience and balance, Rhodonite helps to balance the emotions and is a good stone for shock and panic. Use Rhodonite to help calm you when you feel impatient. Rhodonite is a very supportive stone that works with the Heart Chakra to attract love and ground negative energies. Rhodonite is especially useful for Aries.

Like Rhodochrosite, Rhodonite is often used for rediscovering one's inner gifts, as well as for bringing much-needed love into the world. Rhodonite can also help one to remember their soul-purpose of incarnation, and facilitate living from the heart. This lovely stone also helps one to remember that the best rewards come from serving the highest good. Carrying Tumbled Rhodonite to help provide support to the Higher Heart Chakra, which in turn will promote the service of the Spirit. 
Chakra:  Heart, also Root


Dimensions:  Approximately 1" in length
Price is for 1 stone.

---
More from this collection