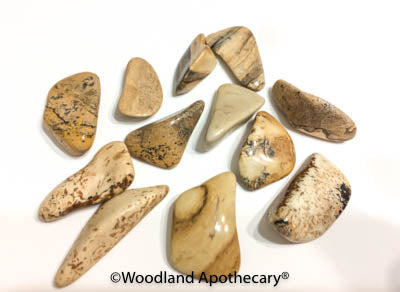 Tumbled Stones - Picture Jasper
Picture Jasper (Brazil) - The swirling patterns and banding that adorn Picture Jasper are said to be images from the past that Mother Earth is willing us to see. These images may lead to a better understanding of our past fears. Picture Jasper is repudiated to give us the chance to see the bigger picture and move forward with courage and confidence. Use this stunning stone to begin a new business venture without the fear of failure.
Take a piece of Picture Jasper with you when traveling to other countries to gain a better understanding of their cultures. A stone of creative visualization, Picture Jasper can be an aide in bringing your goals and dreams into reality. Because of its connection to the earth, Picture Jasper is wonderful stone to work with for conservationists.
Chakra:  Root, also Third Eye
Dimensions:  Approximately 1" in length
Price is for 1 stone.

---
More from this collection